Questions?
Just ask Doug
at 405-306-3062
or email me
NOW OFFERING ON-SITE APPLICATION: RDR Technologies may be available to travel to your jobsite to apply flame retardant to fabrics and wall coverings. Call for info.
NEW! BanFire Flame Retardant Spray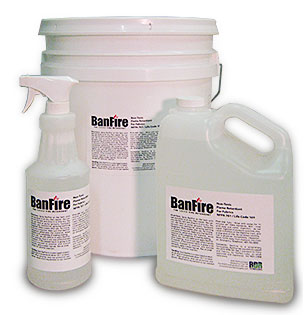 RDR Technologies has just introduced a remarkable new fire retardant spray for fabrics, BanFire. This easy-to-use non-toxic fire retardant simply sprays on fabrics to give unmatched flame resistance. Perfectly clear and non-staining, it has no odor, so can be applied while even the most sensitive noses are in the room. Meets NFPA 701 test for films and fabrics and Life Code 101 requirements for fabrics in public spaces.
Click for more >>>

Fire Retardants
Most people don't ever think about fire retardants until they receive a visit from their local Fire Marshal or Building Inspector, and they are told that something needs to be treated with a fire retardant.
Because fire retardants are not usually sold in retail stores, we have tried to bring the best fire retardant solutions on the market under one roof, and make them available to you. If you have any questions at all, just give me a call at 405-306-3062 and I'll do my best to steer you in the right direction, get you the right product for your application, and keep you in the good graces of the Fire Marshal. Now, what do you need to treat?
Fire Retardant Solutions For...

| | | |
| --- | --- | --- |
| Fabrics & Drapes | Wood Framing & Construction | Thatch & Tiki Huts |
| Paper & Decorations | Painted or Sealed Wood | Steel & Other Metal |
| Christmas Trees | Spray Foam Insulation | |
There is no single product that is effective in every circumstance. That's why we offer specialized solutions for each application. If you are not sure which solution is right for you, just call. If you are purchasing fire retardants to satisfy the requirements of your local building inspector or fire marshal, we can provide you with the documentation you need to show him. It is always best to get his 'OK' before applying the product.
All our fire retardants are tested by independent, third-party, nationally-recognized testing labs. All are formulated to be non-toxic and water-based, containing no polybrominated diphenyl ethers (PBDE's), the bio-persistant agents that are being phased out of the marketplace worldwide.
Best of all, you can be confident that you are dealing with a company experienced in the use and application of flame retardants for wood, fabric, paper, thatch, steel and more. We even have a fire retardant spray for Christmas trees!